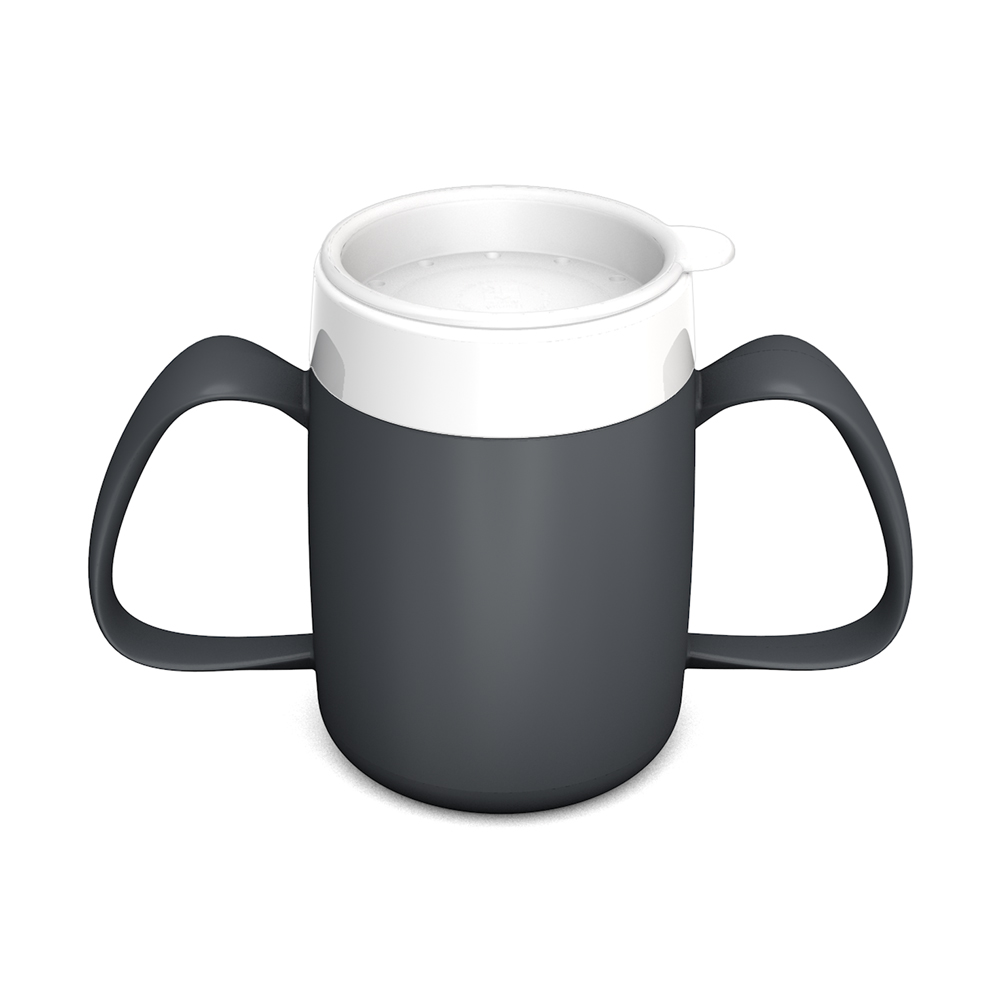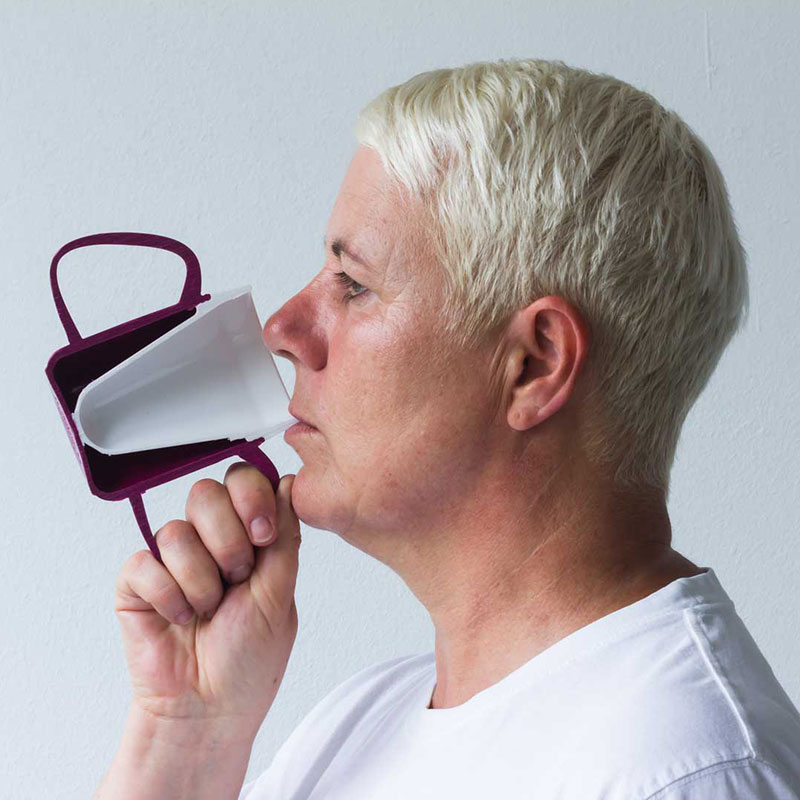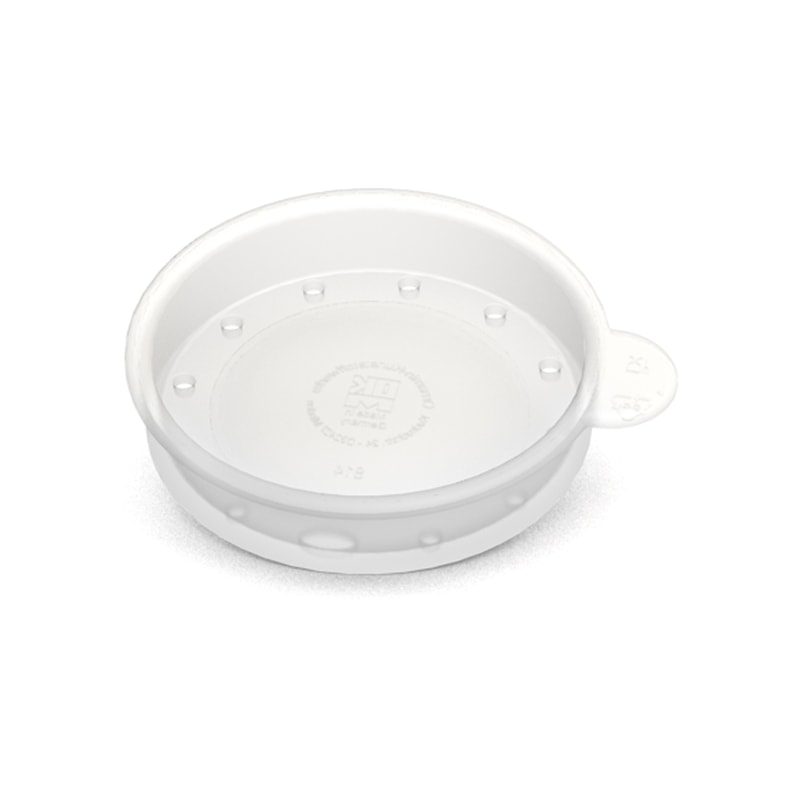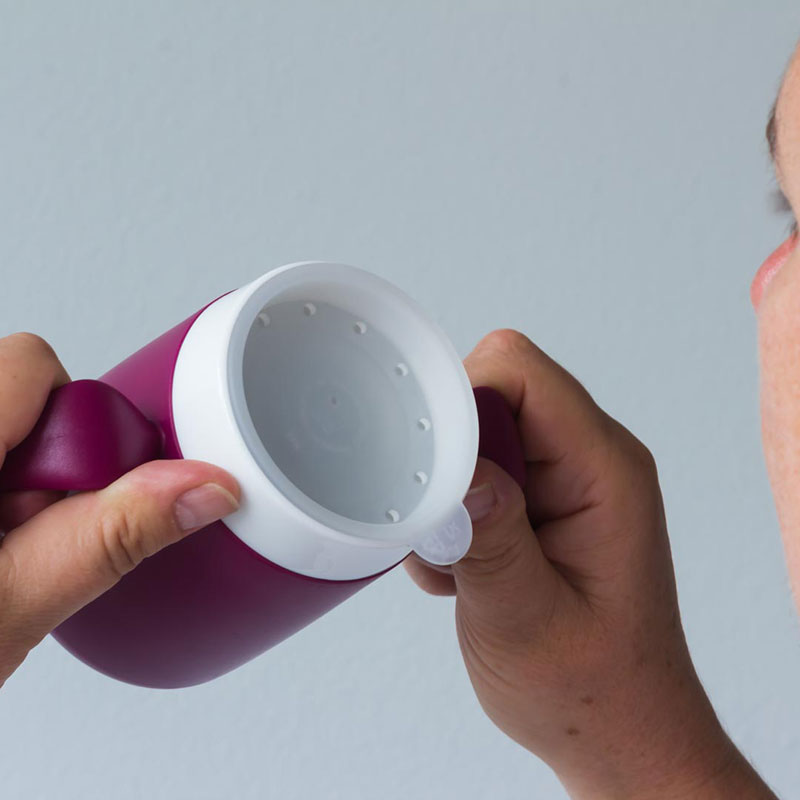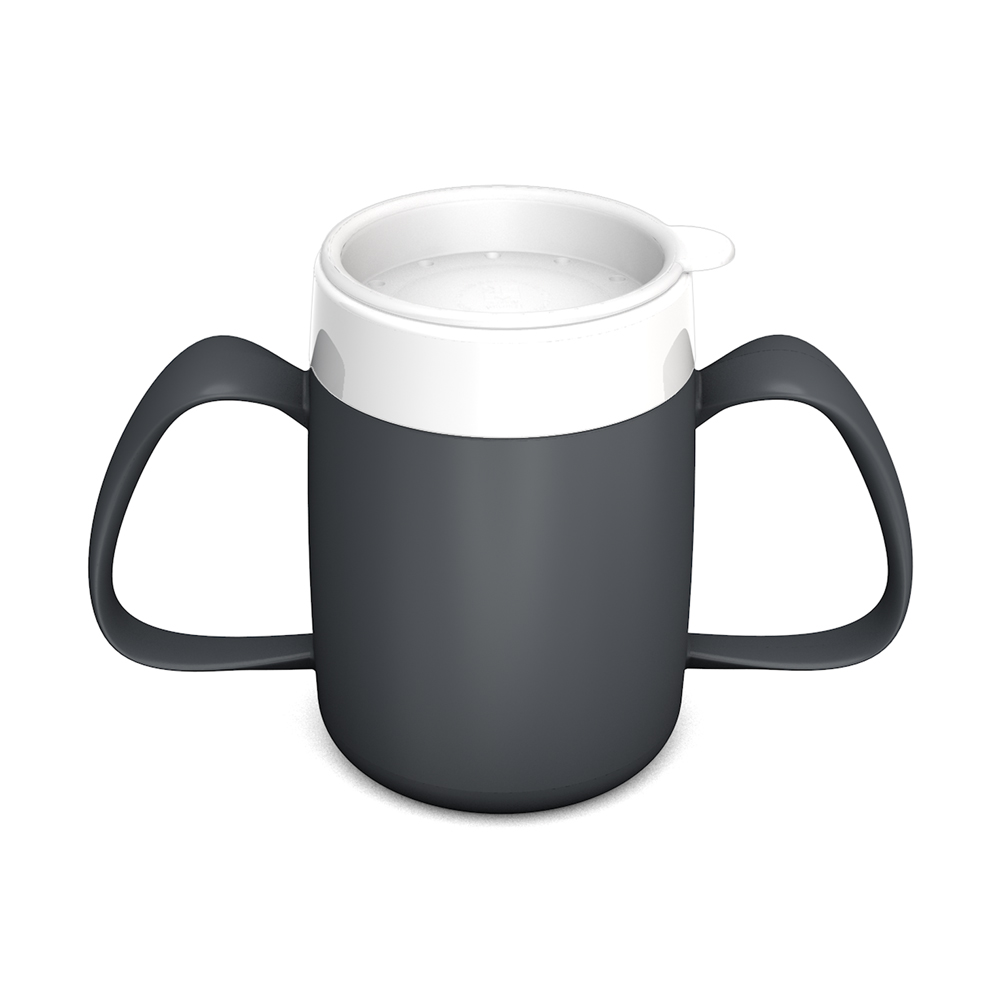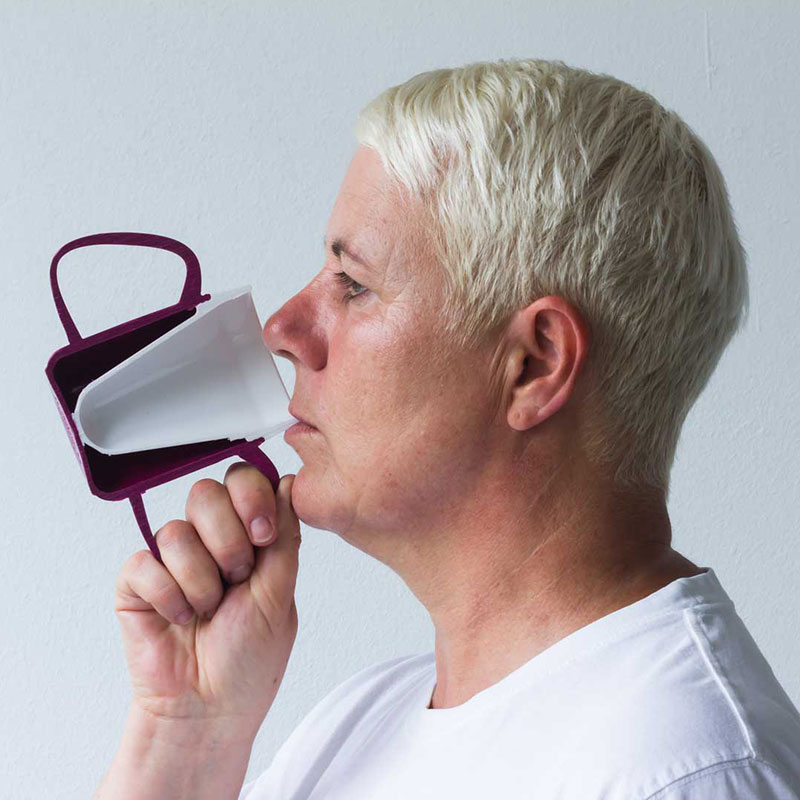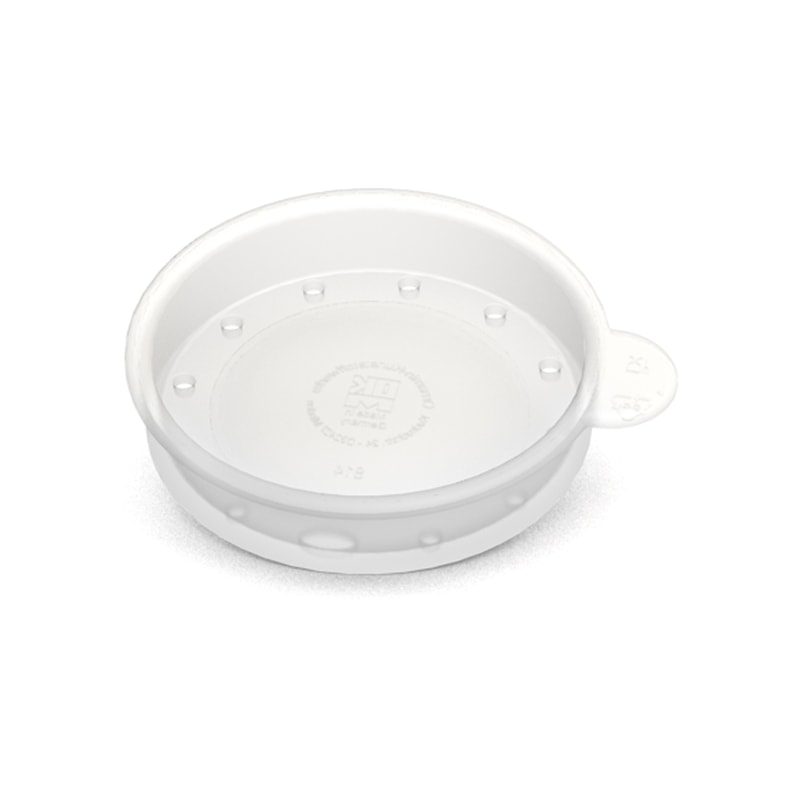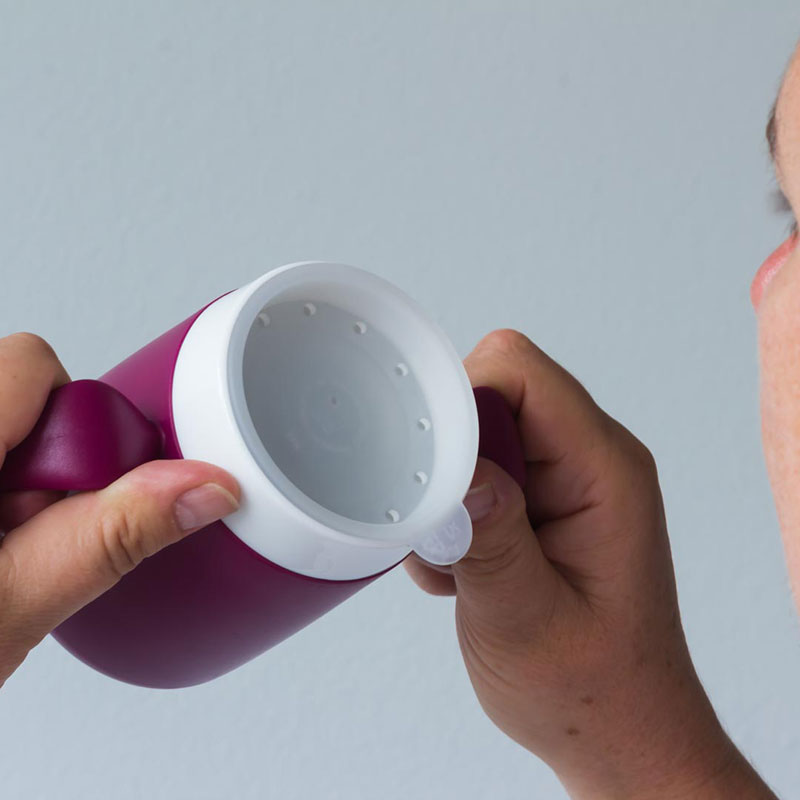 Two Handled Mug with Internal Cone and with Drinking Lid, all-round openings
Two handled mug with internal cone and drinking lid for safe drinking even with shaky hands.
Available, delivery time 1-3 days
Product information "Two Handled Mug with Internal Cone and with Drinking Lid, all-round openings"
discreet drinking spout that discreetly disappears into the cup
inside of the reusable cup tapers to a point at the bottom (conical interior)
all-round openings allow drinking from all sides
BPA-free, dishwasher-safe, microwave-safe, food-safe
sustainable reusable plastic, 100 % Made in Germany
Area:

Neck complaints, dysphagia

, Shaky hands, clammy hands, stiff fingers

Capacity:

160 ml

Diameter:

0.71 cm

Features:

Internal cone

, Thermal Function

Height:

10 cm

Material:

PP

Use & care:

BPA free

, dishwasher safe

, food-suitable

, microwaveable

Weight:

155 g
Eating independently with one hand

The set consists of the components - also available separately - 2-handle cup with drinking trick 140 ml (model 815) and the drinking lid (ø 70 mm), all-round openings (model 814).
Practical everyday help for home and care

The 2-handle cup with drinking trick fits comfortably in the hand thanks to two ergonomically shaped handles that ensure a secure grip when drinking - even with strong tremors or muscle weakness. In blue, green, red, yellow and blackberry, the mug spreads good humour in everyday life and makes life in care facilities or hospitals and at home more colourful. Doubly good: Bright colours also encourage regular drinking and make the cup easy to recognise. In addition, the drinking lid prevents liquids from spilling over.
Tableware for every diseases

The drinking top with all-round openings allows drinking from all sides and thus intuitive use, replacing the classic sippy cup. It is also designed to disappear inside the cup so that it is hardly noticeable as a drinking aid - no one is stigmatised. In addition, this drinking aid reduces the risk of swallowing, because compared to the beak attachment, with this drinking attachment the swallowing reflex is triggered on contact with the lip - similar to drinking without the drinking attachment. In addition, you can feel the temperature of the drink with your lips and do not burn your tongue or throat as easily as with a sippy cup. For straw lovers, there is a special opening where the straw can be clamped. This makes the break-proof cup a practical drinking aid for senior citizens, in nursing care, for illnesses such as
stroke
, Alzheimer's,
dementia
,
multiple sclerosis
and
Parkinson's
and for people with swallowing disorders / dysphagia.
By the way: In summer, the drinking lid provides the perfect insect repellent.
The drinking trick

In its pretty design, the drinking cup hides a special feature: its inner cup is conically shaped. This drinking trick makes it easy to empty the cup without having to bend your head back. Even with physical limitations or in a lying position, drinking pleasure is guaranteed.
The thermo trick

The thermo trick keeps cold drinks cold and hot drinks hot - just as it should be. The air trapped between the inner and outer cup provides the thermo effect - even at slow drinking speeds. At the coffee table or at breakfast, everyone can enjoy their favourite drink at the right temperature.
Reuse instead of throwing away.
Disposable cups like paper cups produce enormous mountains of waste. We want to change that, because we are reusable professionals. With the innovative, reusable coffee to go cup made of sustainable reusable plastic, we avoid waste before it is created. All ORNAMIN reusable products are recyclable and 100% Made in Germany. Honestly sustainable.