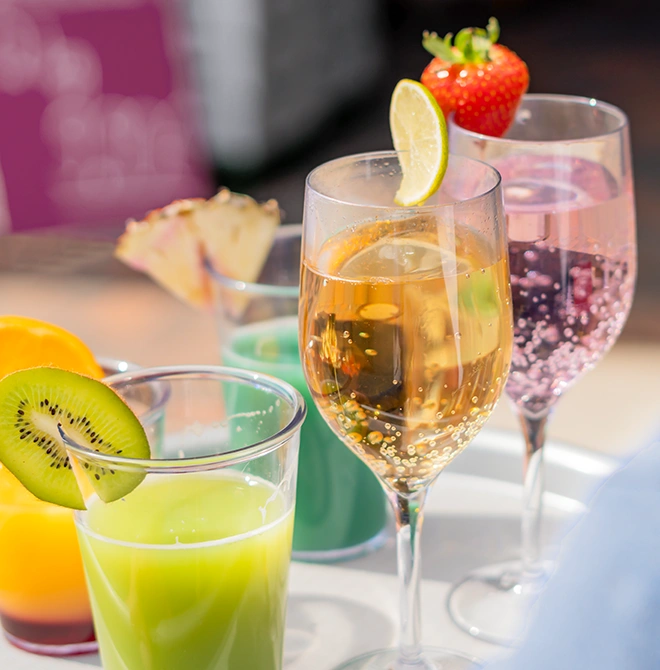 WINE GLASS
robust wine glass made of quality plastic light, food safe, almost unbreakable BPA-free, dishwasher safe, not microwave safe sustainable reusable plastic
CHAMPAGNE GLASS
robust champagne glass made of quality plastic light, break-proof, almost unbreakable BPA-free, dishwasher safe food safe, not microwaveable sustainable reusable plastic
BEER GLASS
robust beer glass made of quality plastic light, food safe, almost unbreakable BPA-free, dishwasher safe, not microwave safe sustainable reusable plastic
GLASS FOR WHEAT BEER
robust glass for wheat beer made of quality plastic light, food safe, almost unbreakable BPA-free, dishwasher safe, not microwave safe sustainable reusable plastic
MOVING MARTHA
reusable cups made of quality plasticalso available with leak-proof sealable lid (Model M1214)100 % recyclable, bisphenol-A-free (BPA-free), virtually unbreakable food-safe, dishwasher-safe, microwave-safe sustainable reusable tableware, 100 % Made in Germany
GREAT GLORIA
large reusable cup made of quality plastic available separately: leak-proof sealable lid in many colours (Model M1214)100 % recyclable, bisphenol-A-free (BPA-free), almost unbreakable food safe, dishwasher safe, microwave safe sustainable reusable tableware, 100 % Made in Germany
LITTLE LARS
reusable cups made of quality plasticalso available with leak-proof sealable lid (Model M1214)100 % recyclable, bisphenol-A-free (BPA-free), virtually unbreakable food-safe, dishwasher-safe, microwave-safe sustainable reusable tableware, 100 % Made in Germany
GREAT GLORIA COCKTAIL EDITION
Reusable cups in fresh colours Available separately: leak-proof sealable lid in many colours BPA-free, reusable, 100 % recyclable food safe, dishwasher safe, microwave safe sustainable reusable tableware, 100 % Made in Germany
ORGANIC STRAW, SET OF 20
pleasant mouthfeel, for cold and hot drinks up to 85°C reusable, biodegradable, pollution-free (free from PLA and BPA)new raw material based on sugar, glucose and woodsuitable for ORNAMIN lidsdishwasher safe (reusable up to 50 times), 100 % Made in Germany
ORGANIC STRAW, SET OF 200
pleasant mouthfeel, for cold and hot drinks up to 85°C reusable, biodegradable, pollution-free (free from PLA and BPA)new raw material based on sugar, glucose and woodsuitable for ORNAMIN lidsdishwasher safe (reusable up to 50 times), 100 % Made in Germany Wholesale packaging for care, retailer, etc.
GREAT GUSTAV
reusable coffee 2GO cup with matt finishsustainable reusable cup, 100% recyclable, 100% Made in Germany food safe, bisphenol A free (BPA free) microwaveable (max. 2 min. at 600 Watt), lid not microwaveable dishwasher safey
STURDY PLASTIC GLASSES
On the road with the camper, camping or barbecuing in the garden: our sustainable high-quality plastic glasses should not be missing from any outdoor excursion. The crystal-clear cups can be stacked to save space and are very suitable for use when camping and as cups for hot drinks, smoothies and iced teas.