Plate with supporting features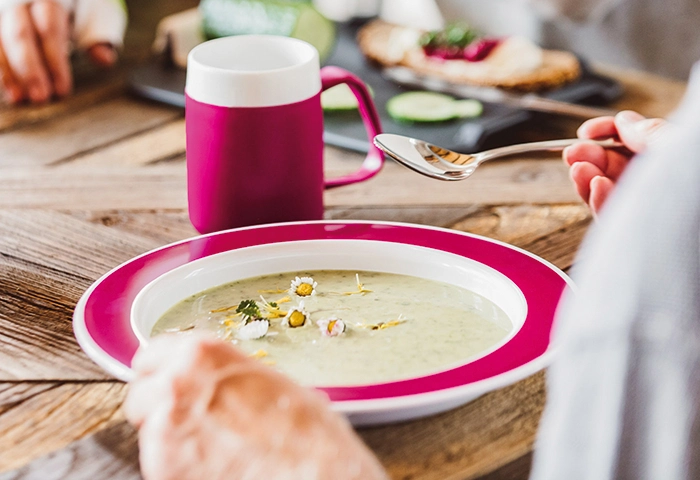 Special plate with hidden function for independent eating
The ORNAMIN special plate with invisible functions hidden in the design is a sloped base plate, plate guard and non-slip mat all in one. At the same time, they look like ordinary crockery and provide support for hand tremors, clammy hands, stiff fingers, one-handed eating, vision problems, neck problems and swallowing difficulties (dysphagia), especially after a stroke, in Alzheimer's disease, dementia, Parkinson's disease or multiple sclerosis. The sloping inner base and hidden overhang in the rim make the plates easy to eat empty, even with just one hand, and ensure that food reaches the fork or spoon more easily.
Replaces plate guard and non-slip mat
The non-slip ring ensures a firm stand. Plates with a thermal function are particularly suitable for slow eaters, as they keep food appetisingly warm for longer. Elderly, sick or disabled people often have difficulties inhandling normal dishes because their hands and fingers are no longer mobile, they have weak, clammy or shaky hands and no longer have sufficient strength. ORNAMIN's dinner plates with hidden function make daily meals easier for those with physical limitations. As a one-handed aid, they enable independent eating with one arm in the case of impaired motor skills, severe tremor and limited hand mobility.