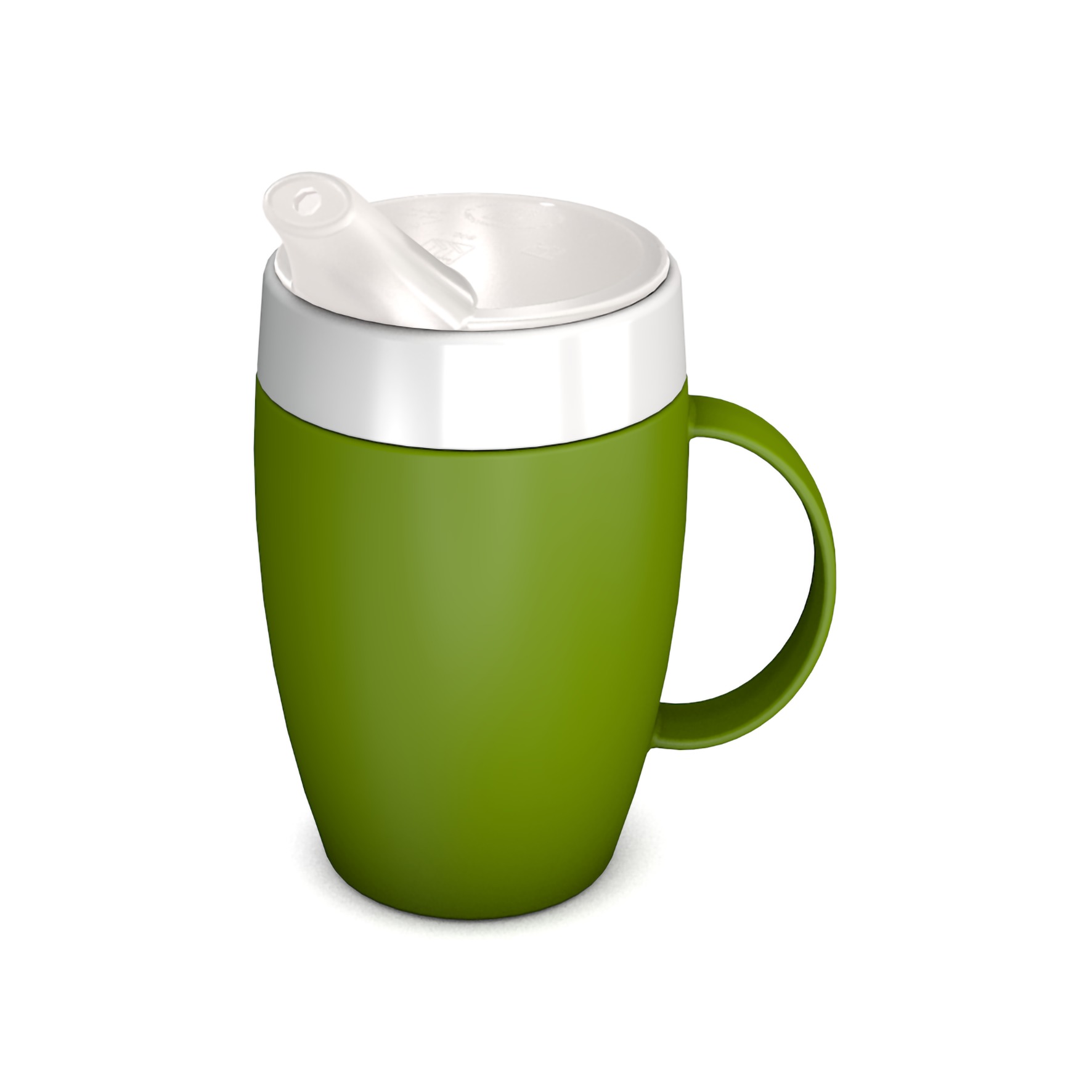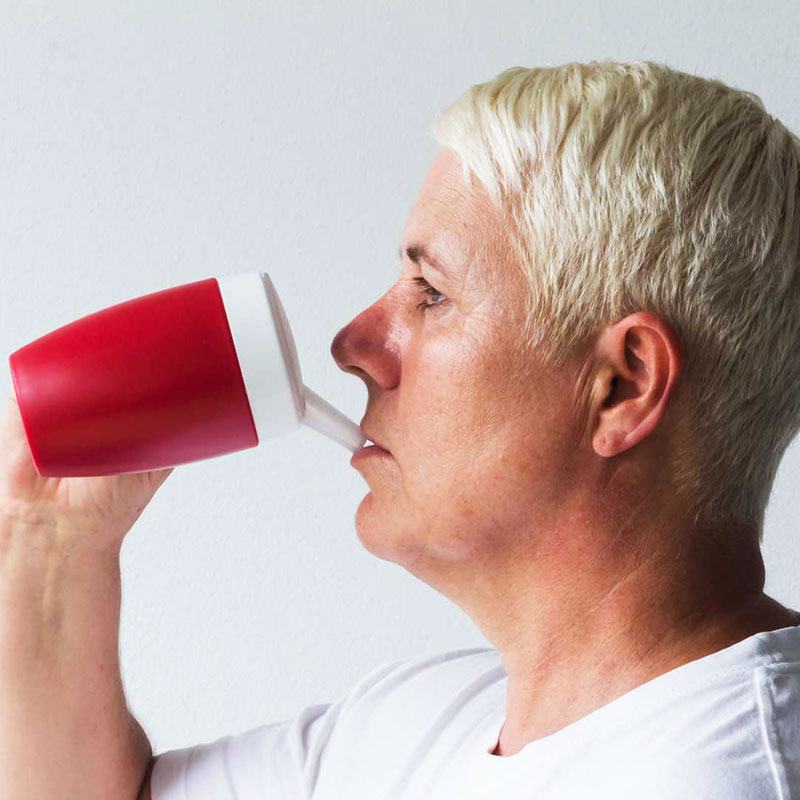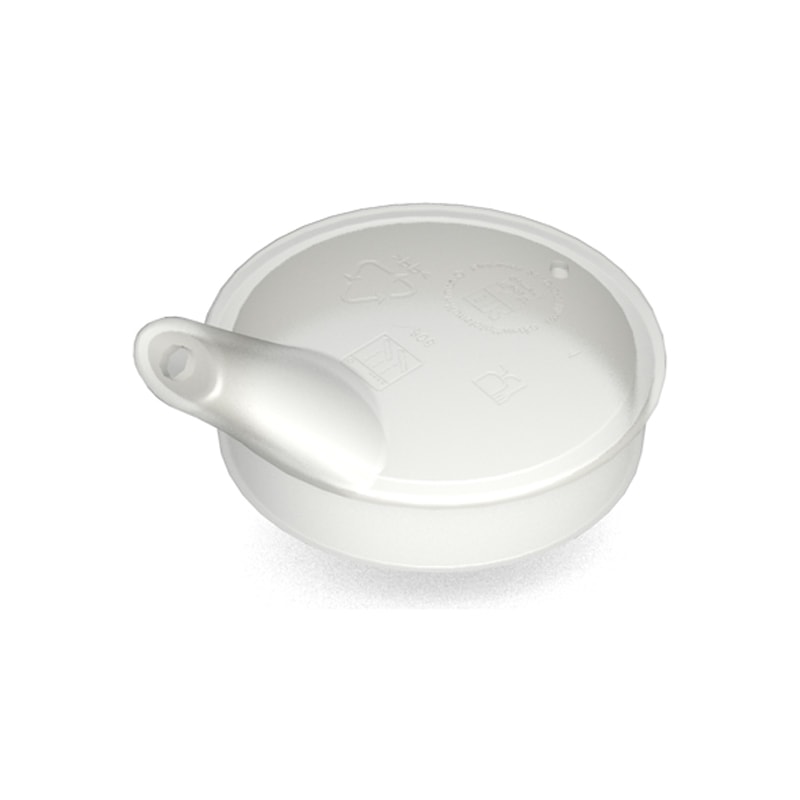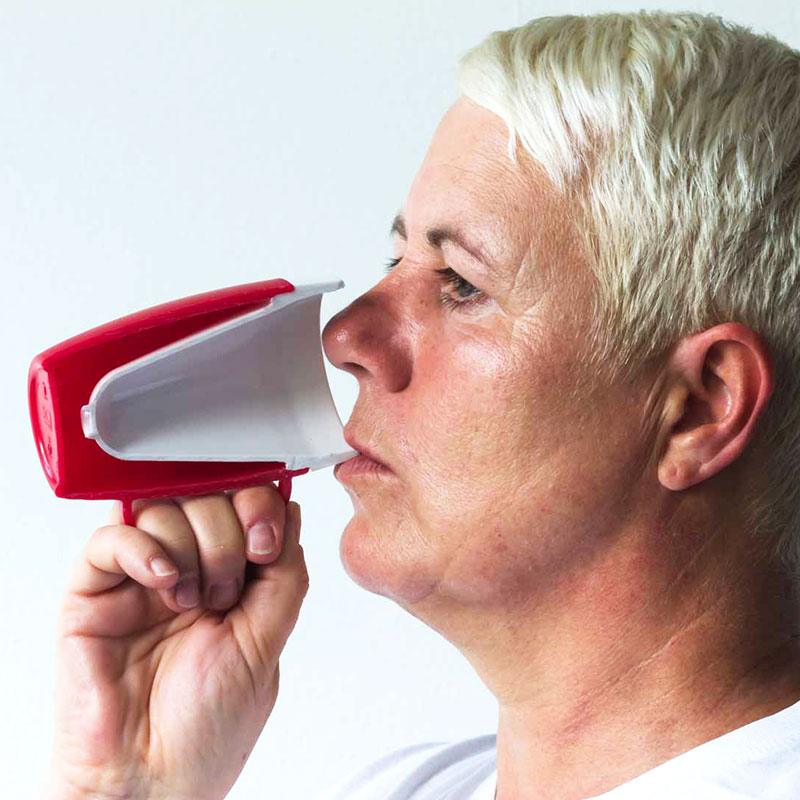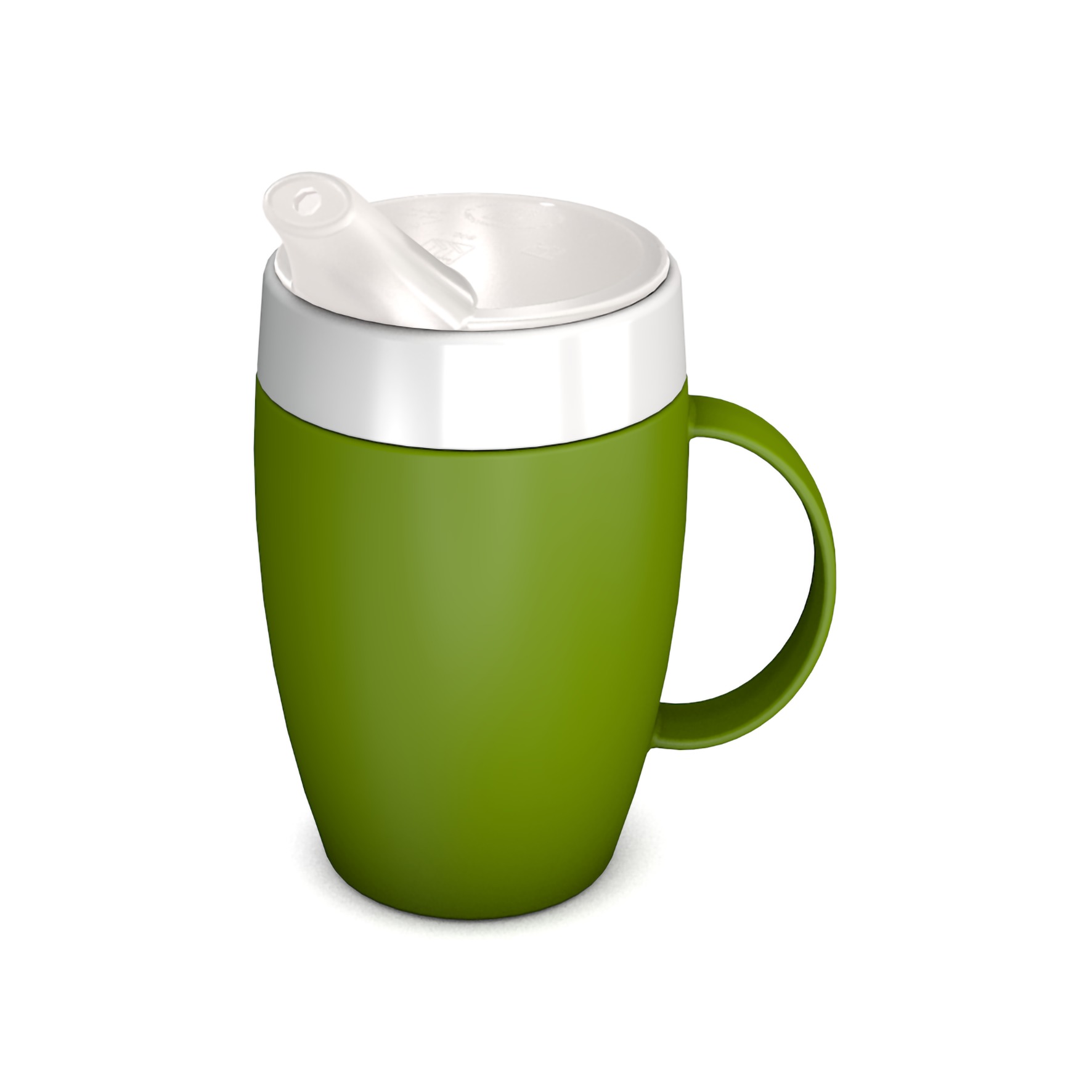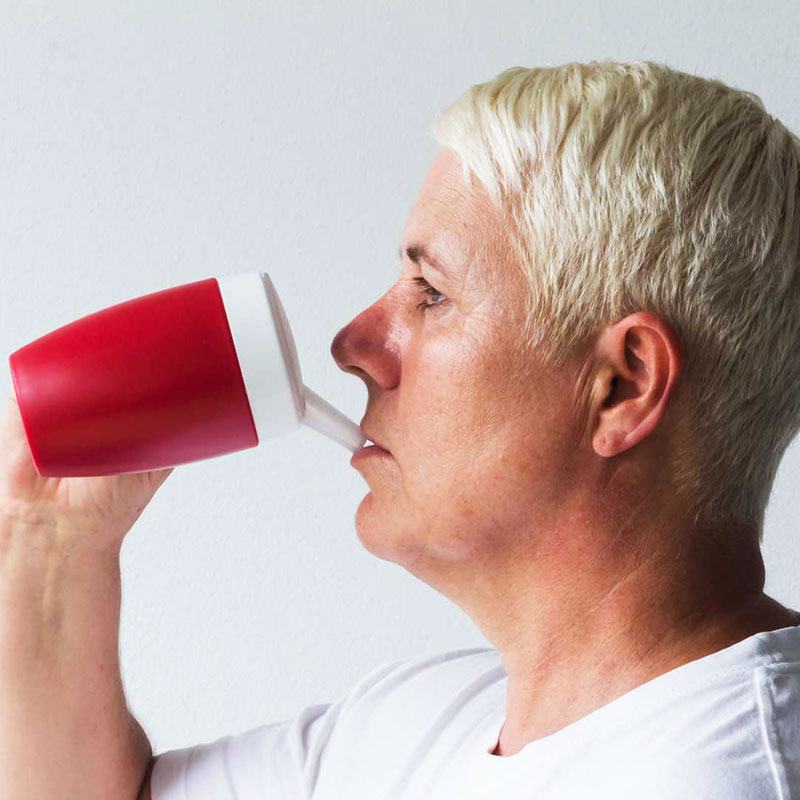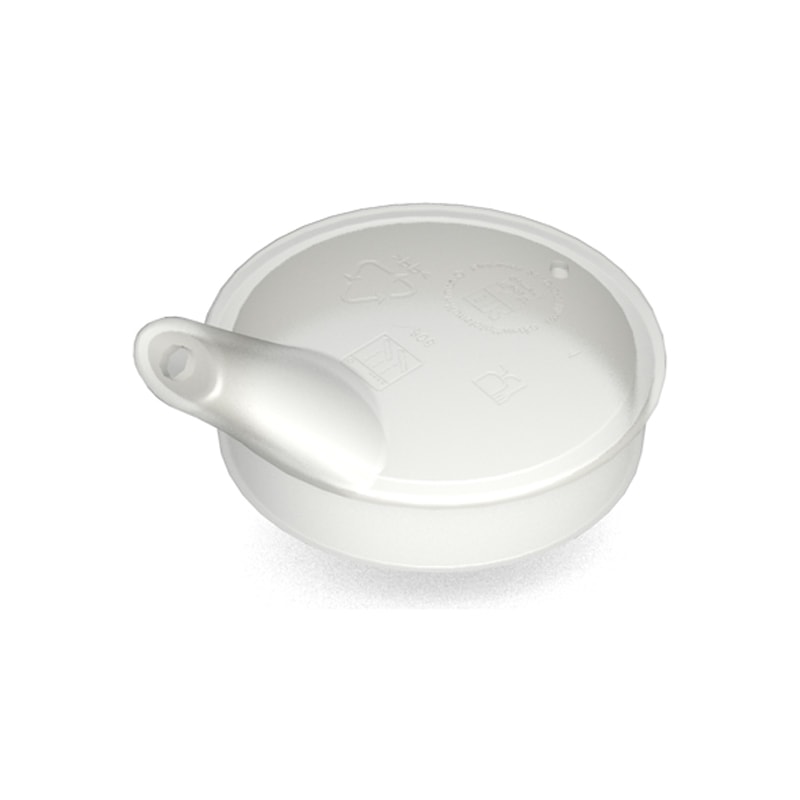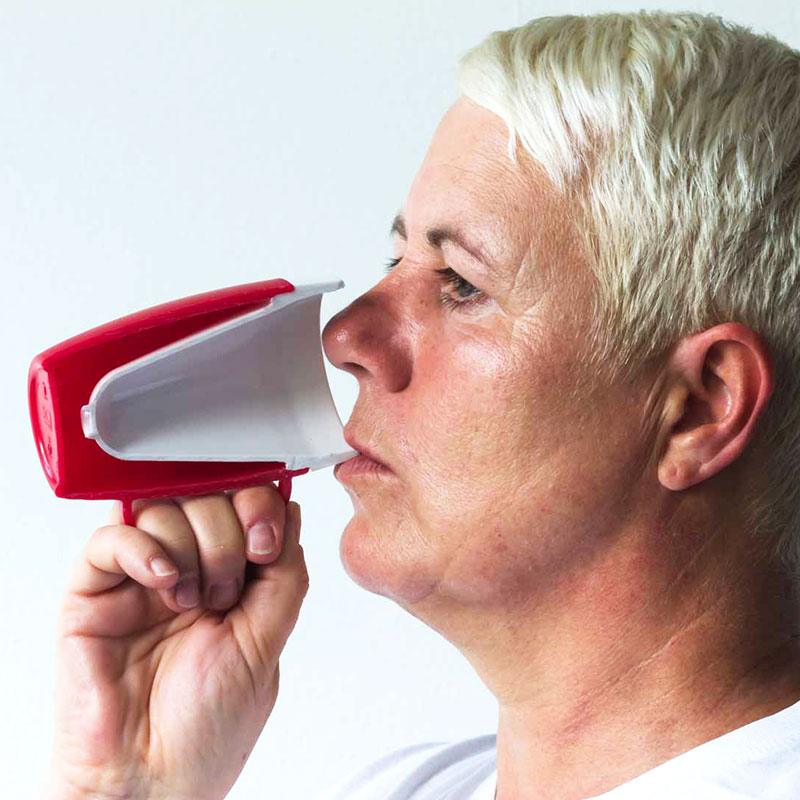 Mug with Internal Cone with Spouted Lid
Spouted Mug 4.0: Mug with spouted lid for independent drinking.
Product number:
S905-3v423
Product information "Mug with Internal Cone with Spouted Lid"
inside of the cup tapers to a point at the bottom (conical interior)
double-walled, intuitive to use, encourages independent drinking
easy drinking without putting the head in the neck
BPA-free, dishwasher-safe, microwave-safe, food-safe
sustainable reusable plastic, 100 % Made in Germany
Area:

Neck complaints, dysphagia

, Shaky hands, clammy hands, stiff fingers

Capacity:

160 ml

Diameter:

8 cm

Features:

Internal cone

, Thermal Function

Height:

12 cm

Material:

PP

Use & care:

BPA free

, dishwasher safe

, food-suitable

, microwaveable

Weight:

140 g
Helpful care set

The set consists of the components - also available separately - cup with drinking trick 140 ml (model 905) and drinking lid small opening (ø 5 mm) (model 806). Here, drinking trick, thermo trick and spout function are combined in one cup. The drinking spout (ø 5 mm) - also known as the beak spout - protects against spilling and spilling. The length of the beak is particularly helpful for people with restricted neck movement. This means that the head hardly has to be bent backwards when drinking.
Safe independent drinking

Whether in care or at home: the spout attachment gives people with disabilities more security when drinking. It helps small children to learn how to drink from the cup and ensures that nothing spills over when they are out and about. The clear two-colour design makes both the cup and the drink inside the cup easy to recognise. This makes drinking more comfortable, especially for people with dementia.
Tableware for every diseases

This reusable cup is a beautiful alternative to the nasal cup and makes it superfluous. The secret lies in the conical shape of the inner cup - this means that its innovative geometry tapers towards the bottom, similar to an ice cream cone. This means that the entire cup can be emptied without having to put your head back and your nose no longer interferes with drinking. This makes the drinking cup a practical everyday helper for seniors or people with handicaps, in nursing care, for illnesses such as
stroke
, Alzheimer's,
dementia
,
multiple sclerosis
,
Parkinson's
and for people with swallowing disorders / dysphagia.
The Thermo Trick

In addition to the drinking trick, the double-walled insulated cup also masters the thermo trick: with the help of the double wall, it keeps cold drinks cool and hot drinks warm. So everyone can drink and enjoy at their own pace.
Excellent cup

The small aids of the beautiful cup are invisibly hidden in the details, so that the cup is not noticeable as a drinking aid. It is also intuitive to use. For this so-called universal design, the ORNAMIN cup with drinking trick has been awarded the universal design award 2011, the universal design consumer favourite 2011 and as product of the year 2011 pro-K.
Mug and attachment are dishwasher safe and microwaveable.
Reuse instead of throwing away.
Disposable cups like paper cups produce enormous mountains of waste. We want to change that, because we are reusable professionals. With the innovative, reusable coffee to go cup made of sustainable reusable plastic, we avoid waste before it is created. All ORNAMIN reusable products are recyclable and 100% Made in Germany. Honestly sustainable.