Tableware experts
Professional tableware for all...
---
Our tableware for all, light, low-noise and break-resistant. Made of high-quality plastic and 100% made in Germany, looks deceptively similar to porcelain. In addition, it is completely recyclable, we are happy to take back any sorted out parts and recycle them as raw materials (circular economy). This is lived sustainability.

Our Tableware Fits All
---
Camping, nursery, canteen - wherever sturdy tableware is needed, we are happy to provide our products. Durable, light and space-saving stackable, it does not take up much room. And with our wide selection of designs, there is something for everyone.
Absolutely Suitable for Travels
On the road with the caravan, during a stopover on the bike tour or at a barbecue in the garden: ORNAMIN camping tableware is the perfect companion. It is easy to carry, robust and sturdy, and can be stacked easily to save space. But this is not only practical for camping. The tableware fits also well in a backpack or bicycle bag. And best of all, it doesn't break.
You can put together your own coffee to go mugs and food to go bowls in your favourite colours.
For Children, Nurseries and Day-Care Centres
---
Our children's tableware is safe, BPA-free, stable and 100% Made in Germany. Unlike common porcelain and ceramic tableware, it won't break if it falls down. Children can't hurt themselves. Usual plastic tableware is often inferior and wears out quickly. Nursery teachers therefore appreciate the professional quality of the ORNAMIN children's tableware, because it is designed to meet the special requirements of nurseries, day-care centres and care for under three-years-olds. Due to its high quality, it lasts virtually forever and does not have to be constantly repurchased. In addition, it no longer causes a loud clattering.
Your Nursery - Your Design
Customise your nursery tableware: nursery logo, special design or pictures of the children on the tableware - anything is possible. Rabbit or hedgehog? With different colours or designs, the children know immediately: this is my group.
Our children's tableware is designed in a way that even the youngest can handle it. Grip pads and cup sleeves help to hold the tableware better and children need less help. Because doing it yourself means learning faster.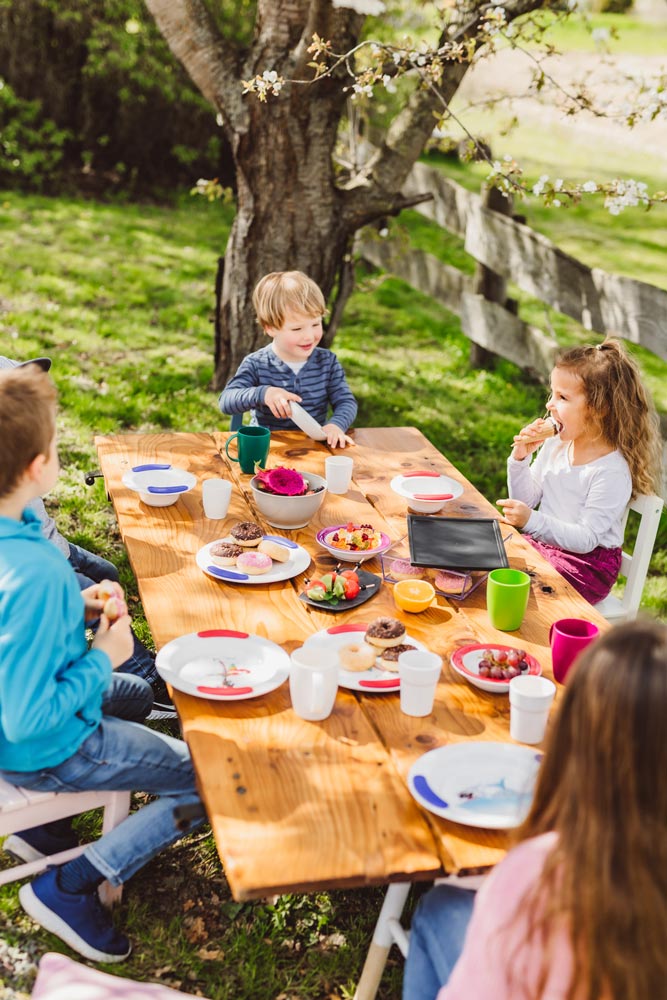 For Canteens
---
Comfortably quiet for students, pupils and staff, light for the staff and nice to look at for all guests – ORNAMIN reusable crocky made of high-quality plastic is break-resistant, economical, scratch-resistant and resistant to discolourations and stains. It saves time, minimises the risk of injury and is suitable for industrial dishwashers in canteens. The functional and modern tableware in a timeless design is 100% recyclable, 100% Made in Germany and 100% suitable for the daily challenges of a canteen.
Tableware Series
Elegant, puristic, classic or modern – We have the tableware series that meets perfectly your needs. If wished you can also get your customised tableware.
Tableware That Pays Off
---
Its long durability makes our quality tableware a sustainable and cost-saving investment. It is breakable, light, dishwasher safe and breaks less often than porcelain dishes. All economic benefits at a glance.
Efficiency
Save money. Due to the durable high-quality plastic less breaks, plates and cups do not have to be replaced constantly.
With ORNAMIN reusable tableware you save 3,875 euros and more compared to porcelain when used over 5 years. This is confirmed by a survey of specialists from the retail and application sectors. According to this, porcelain has a breakage rate of 15 – 50%, whereas plastics have a breakage rate of less than 5%.
We take back sorted out tableware and broken crockery and recycle them in an ecologically sensible way.
One Material - Many Advantages
The special advantage of our dishes over porcelain? It's extremely sturdy. And that means above all: it lasts much longer. The dishes are lighter to carry, because it weighs only 1/3 of porcelain. In addition, it is pleasantly quiet: Due to the particularly low-noise material, the noise level is greatly reduced when eating.
The dishes are dishwasher safe and also suitable for industrial dishwashers.

Sustainable and eco-friendly: All tableware parts are made of BPA-free high-quality plastic, are 100% Made in Germany and can be recycled.
Experience Our Reusable Tableware
References
---
A lot achieved and still a lot to come. Find out where ORNAMIN reusable tableware is already in sustainable use.
Contact
Are you interested in our tableware for care institutions, clinics and hospitals? We will be happy to make you an individual offer.
You are unsure how much tableware you need for your number of residents? We will be happy to help you with the calculation.
ORNAMIN Contact
Katja Antal, Sales
+49 (0) 571 88 80 8-75
k.antal@ornamin.com