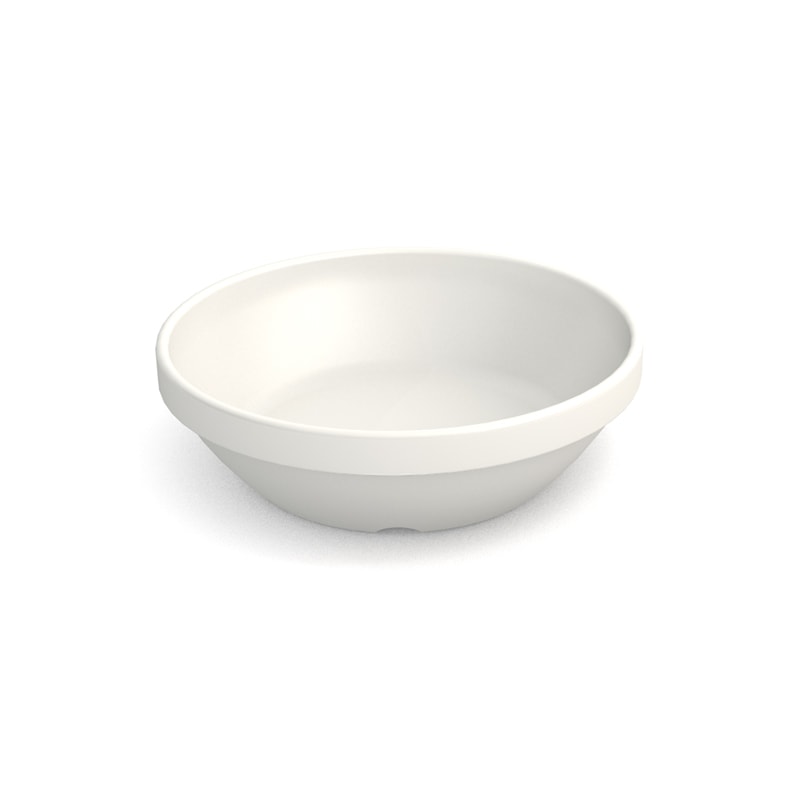 Small bowl from the country house series.
Unfortunately currently sold out, soon available again
Product information "Dessert Bowl"
space-saving stackable, almost unbreakable
visually similar to porcelain, durable
BPA-free, reusable, 100 % recyclable
food safe, dishwasher safe, not microwave safe
sustainable reusable tableware, 100% Made in Germany
Material:

Melamin

Series:

Country Style

Use & care:

BPA free

, dishwasher safe

, food-suitable

, not microwaveable
Versatile small round bowl
The reusable bowl made of high-quality plastic is almost unbreakable, unbreakable, durable and is perfect for dips, sauces, muesli, desserts, snacks, tapas, salad, finger food, ice cream, nibbles and as a fruit bowl, dessert bowl. Whether for breakfast, as a pudding bowl, for appetisers, cornflakes, sweets, crisps through to fruit, ice cream, yoghurt or dips - this small plastic bowl is versatile. Practical for leisure and camping on the road, because it weighs only about 1/3 of porcelain, on the boat, in the camper, in the garden, for barbecues, picnics, BBQs, at parties and celebrations.
For canteens and cafeterias
The mini bowl is ideal for use as catering utensils in canteens, cafeterias, restaurants, buffets, schools, kindergartens, daycare centres, youth hostels, hostels, country school homes, old people's homes, hospitals, nursing homes, institutions, communal catering and at home. Carrying and clearing away even large quantities of dishes is a breeze. In addition, the bowls can be stacked perfectly.
High quality and durable
The reusable dishes are particularly break-resistant and durable thanks to the high-quality plastic. For communal catering, the low heat capacity means less energy is needed in the dishwasher, as it has to reheat less often. Preheating of the canteen bowl is also not necessary.
Covered all around
To complement the small dessert bowl, the Landhaus series also includes the small bowl (model 161) and the large bowl (model 154). They are the perfect companions for side dishes such as potatoes, rice and co. The large bowl is also available in a two-tone look in many cheerful colours and is a real eye-catcher. Matching plates are available: flat plate, Ø 19.5 cm (model 123), flat plate, Ø 23.5 cm (model 124), deep plate Ø 23.5 cm (model 125). Coffee or tea for breakfast, dessert or simply in between meals can be enjoyed wonderfully in the coffee pot (model 1201).
Matching tableware series
For every single tableware item, there is a matching series that you can find at our online shop. However, the plates, cups and bowls from all series can also be harmoniously combined with each other. Be inspired. (>> to the Country Style series)
Reuse instead of throwing away.
Disposable cups like paper cups produce enormous mountains of waste. We want to change that, because we are reusable professionals. With the innovative, reusable coffee to go cup made of sustainable reusable plastic, we avoid waste before it is created. All ORNAMIN reusable products are recyclable and 100% Made in Germany. Honestly sustainable.