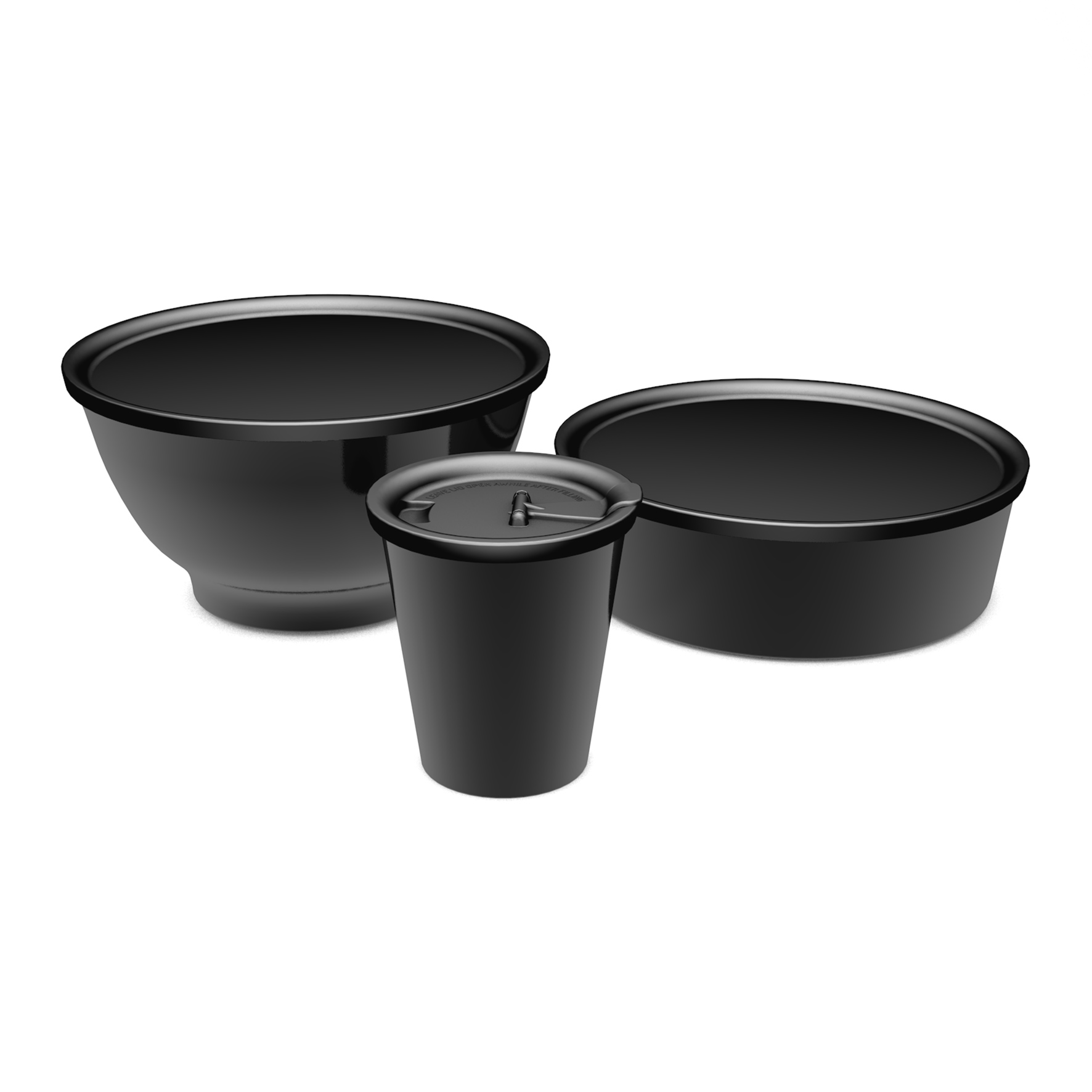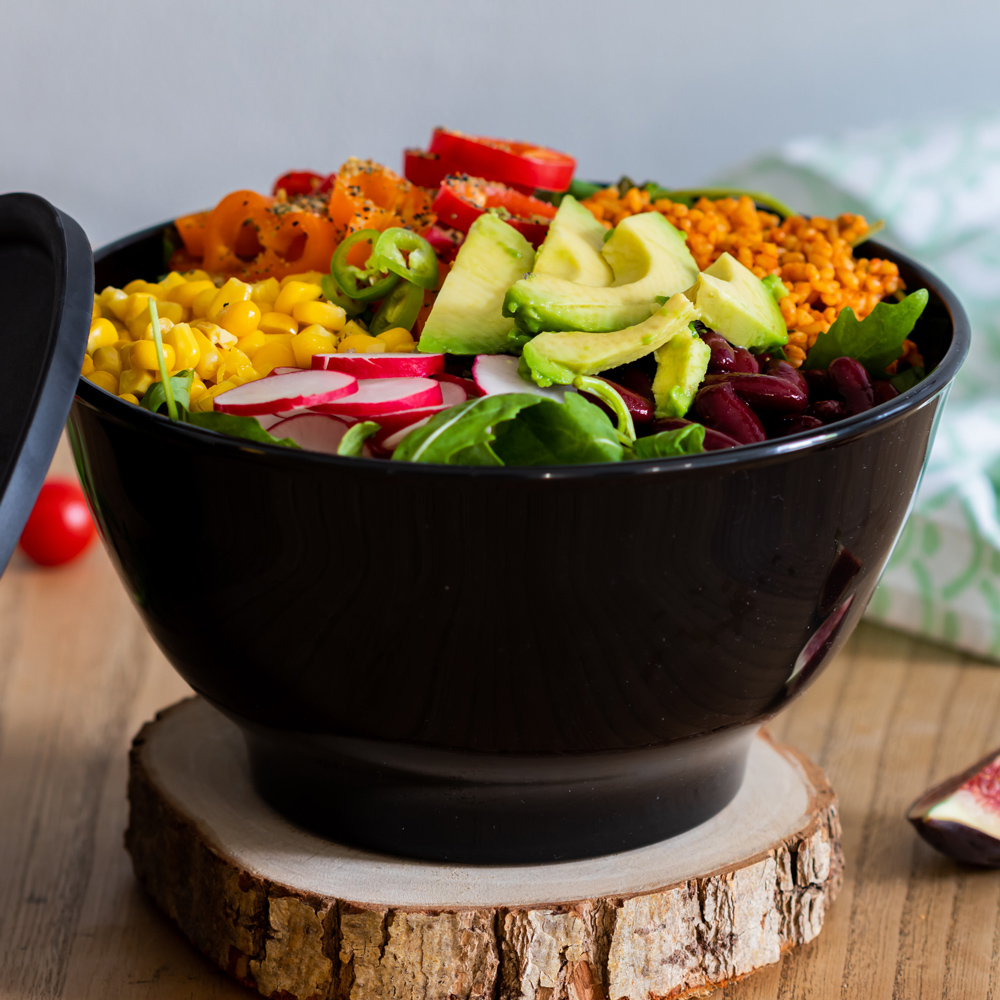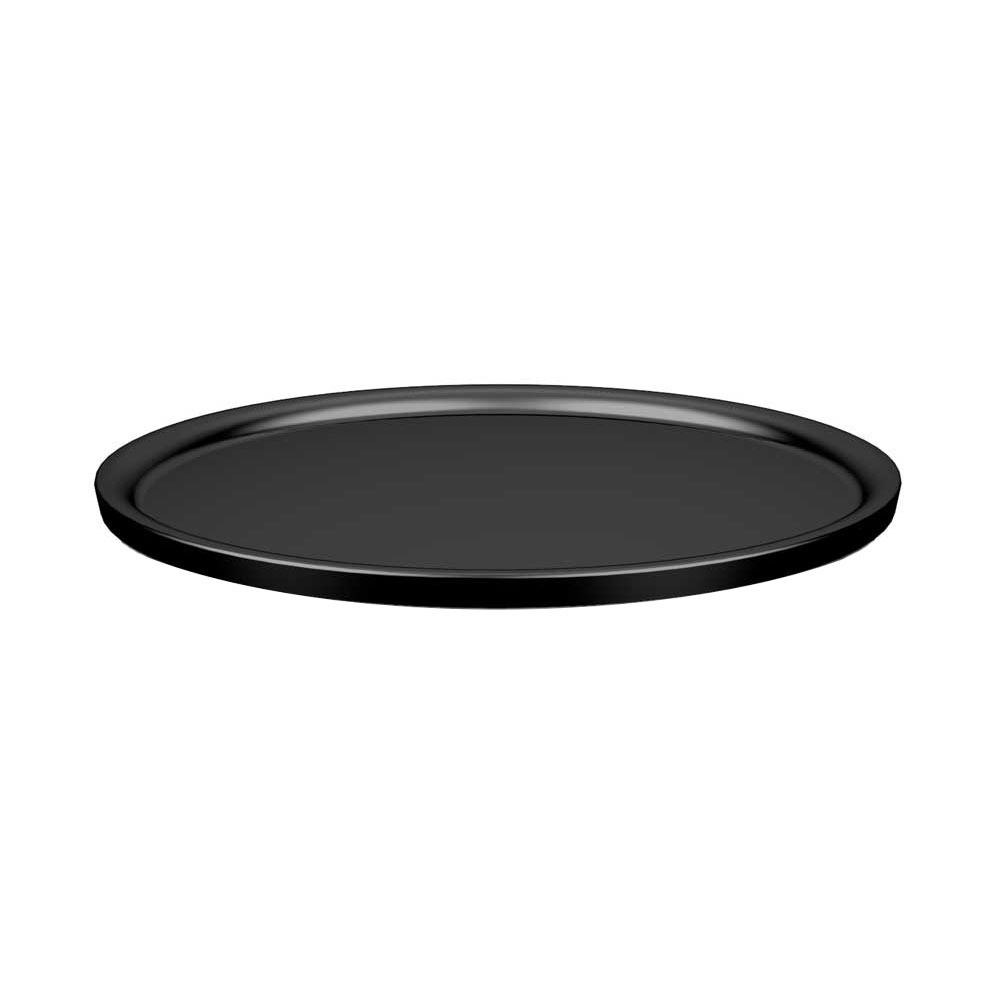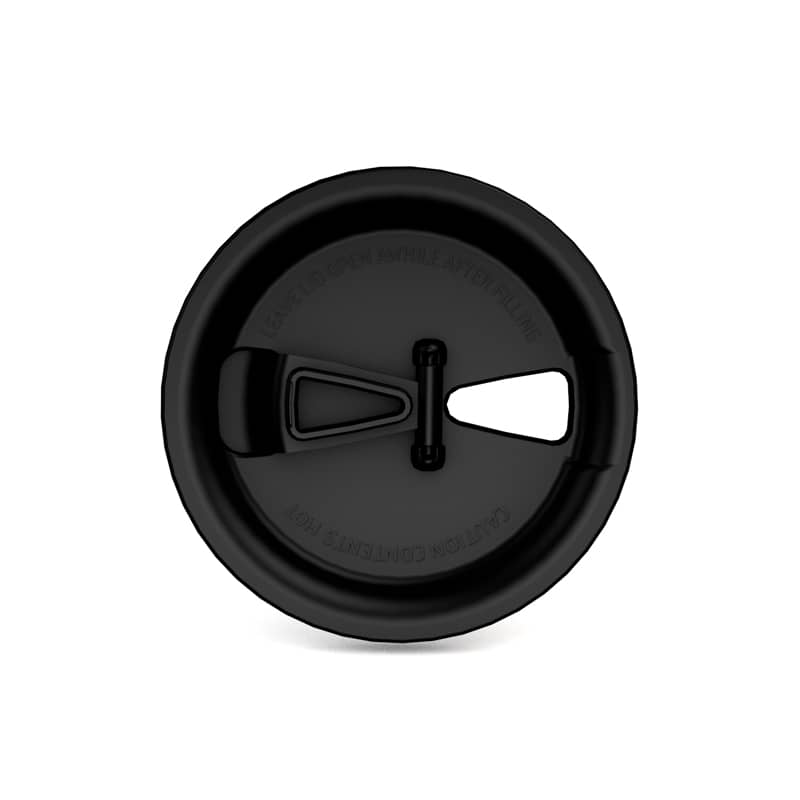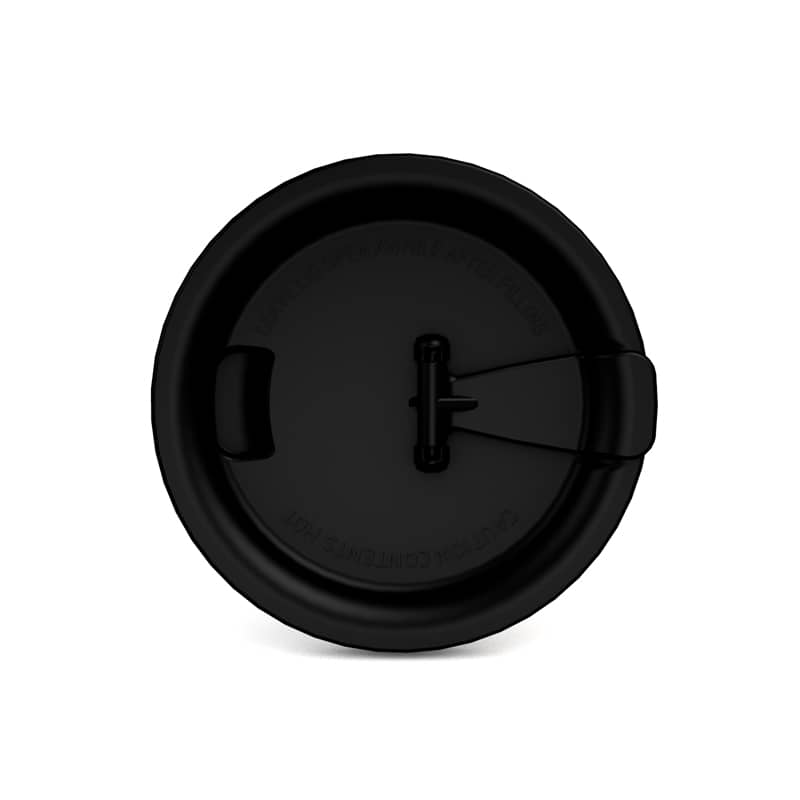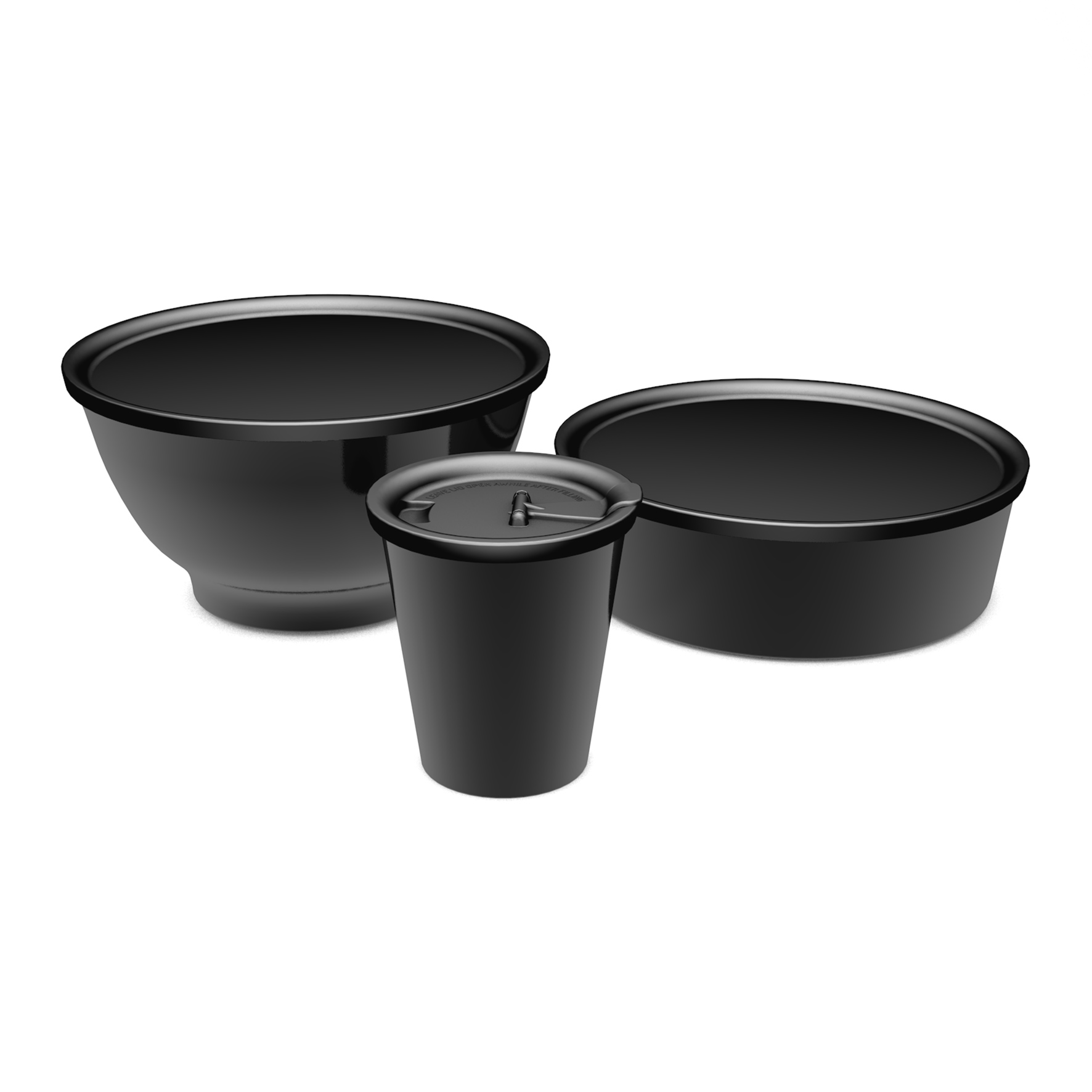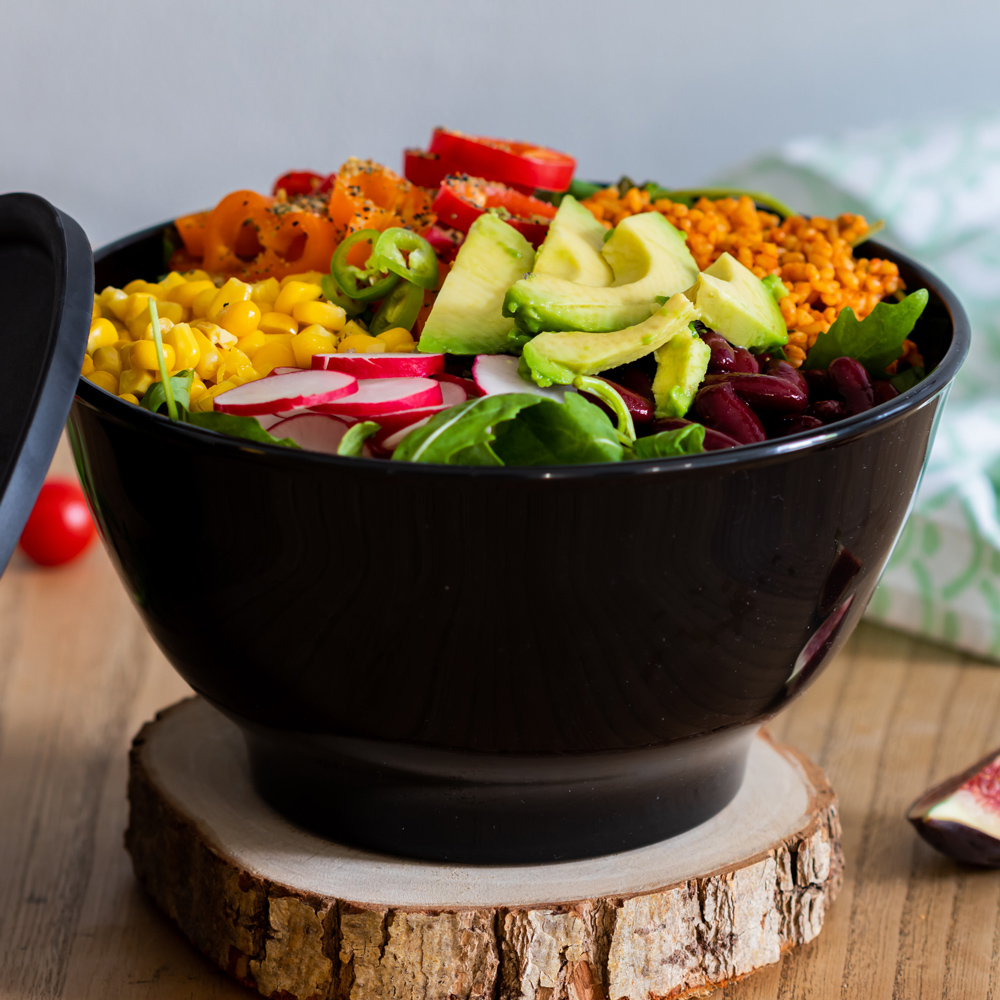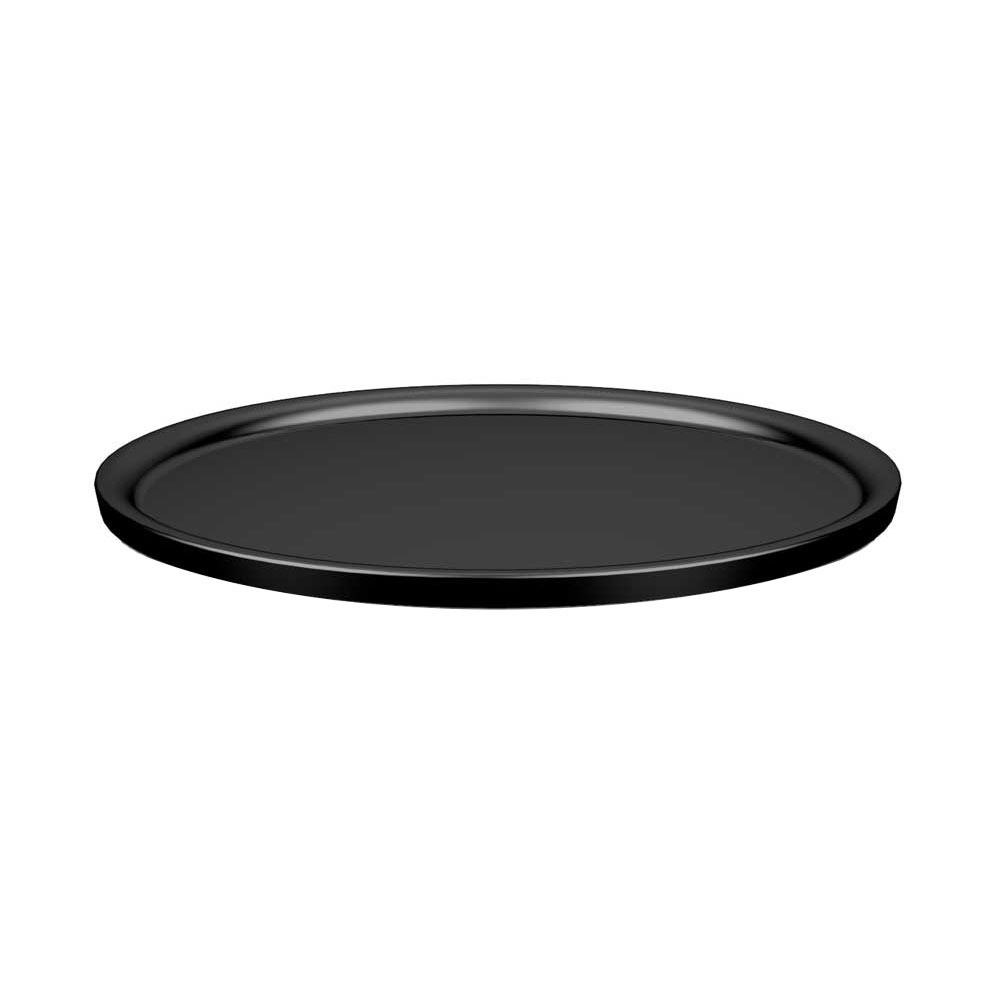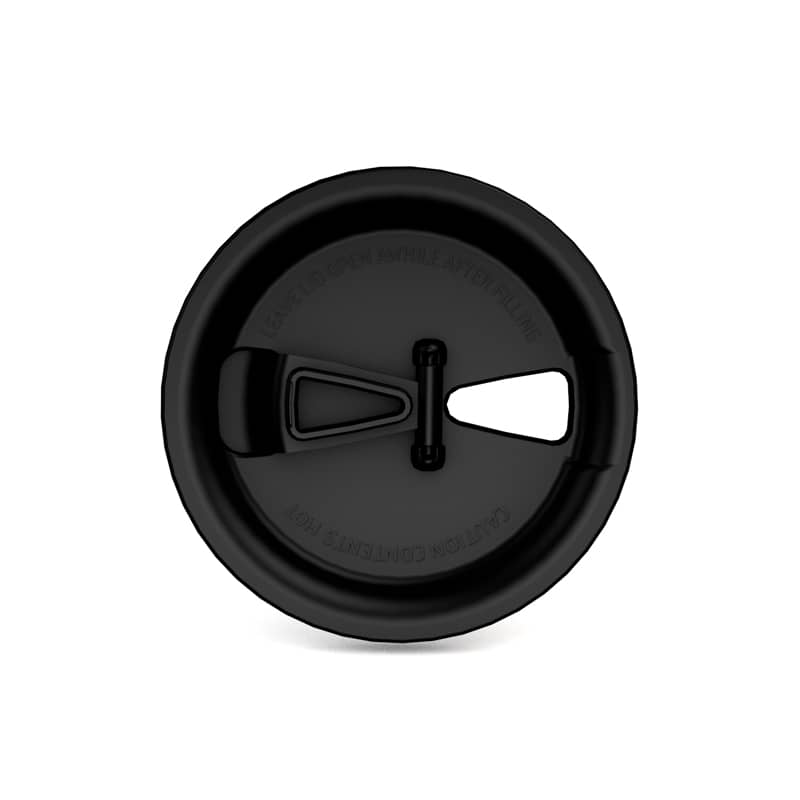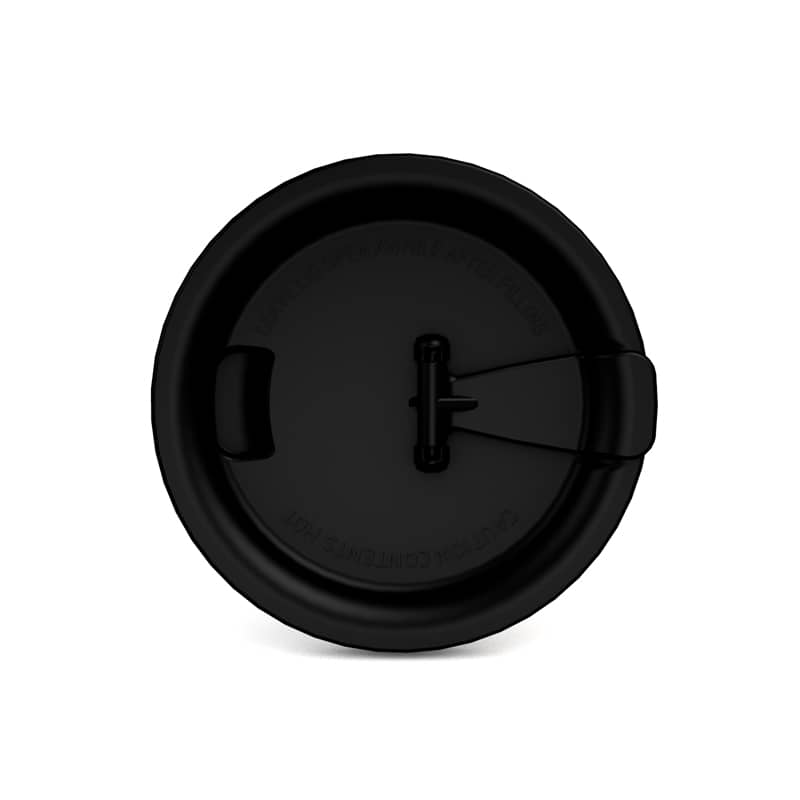 Set of 3 consisting of 1x Moving Martha, 1x Big Bruno and 1x Hungry Harry.
Product number:
S1200-2v967
Product information "To Go Set"
light, break-proof, ideal for on the go, can be decorated individually
with leak-proof sealable lid, BPA-free, 100% recyclable
bowl microwaveable (max. 2 min. at 600 watts, max. 160°C), lid not microwaveable
freezer safe (up to -25°C), food safe, dishwasher safe
sustainable reusable tableware, 100 % Made in Germany
Series:

Elegant design

Use & care:

BPA free

, dishwasher safe

, food-suitable

, freezer safe (up to-25°C)

, microwaveable (bowl)

, not microwaveable (lid)
For food on the go

The ORNAMIN To go set consists of Moving Martha (coffee to go cup, 300ml), Big Bruno (food to go bowl, 1,100ml) and Hungry Harry (food to go bowl, 1,600ml) including matching lids that seal securely. Perfect for takeaway food from the supermarket, bakery, company canteen or home. Food can be transported spill-proof, heated in the microwave without a lid if required, enjoyed on the go and conveniently cleaned in the dishwasher.
For take-away and delivery food

Take-away food without a guilty conscience. Tired of all the disposable waste from take-away or delivery food? Then pick up your food to go in your own ORNAMIN reusable bowls. Many restaurants and cafés offer take-away food. Support them, eat sustainably and save on packaging waste. Reusable has never been so easy.
Reusable dishes for restaurants and canteens

Reusable instead of disposable: ORNAMIN reusable dishes are the sustainable alternative to disposable packaging for the delivery and collection of food for consumption away from home. All ORNAMIN reusable products can be individually decorated with logo, motif or branding and equipped with RFID technology. Perfectly suited for use in canteens, refectories or company restaurants.
Reuse instead of throwing away: for a waste-free future

Disposable cups made of cardboard and disposable packaging produce enormous mountains of waste. We want to change that, because we are reusable professionals. All ORNAMIN reusable products are reusable, recyclable and 100% Made in Germany.
Matching tableware series
For every single tableware item, there is a matching series that you can find at our online shop. However, the plates, cups and bowls from all series can also be harmoniously combined with each other. Be inspired. (>> to the series Go & Keep)
Reuse instead of throwing away.
Disposable cups like paper cups produce enormous mountains of waste. We want to change that, because we are reusable professionals. With the innovative, reusable coffee to go cup made of sustainable reusable plastic, we avoid waste before it is created. All ORNAMIN reusable products are recyclable and 100% Made in Germany. Honestly sustainable.
---
Das Geschirr-Set ist perfekt zum mitnehmen auf Festivals. Es ist echt stabil und überlebt den robusten Festival-Alltag problemlos. Zudem ist alles verschließbar, und somit ist auch die Aufbewahrung von Lebensmitteln gesichert.
Toller Begleiter unterwegs und im Alltag
Robustes Set mit schlichtem Design in toller Qualität und schönen Farben. Wir sind vollkommen zufrieden und würden es jederzeit gerne nochmal bestellen.
Ich habe das to go Set in der Farbe Leinen bestellt, und bin damit echt zufrieden. Ich kann in den Schalen mein Essen zur Arbeit transportieren, und dort dann mittags gegebenenfalls in der Mikrowelle erwärmen. Die Bowl ist super für Salate, die andere Schale z.B. für Auflauf, Nudeln oder Reis. Den Becher nutze ich gerne für den Kaffee auf dem Weg zur Arbeit.